Library Vertical & Horizontal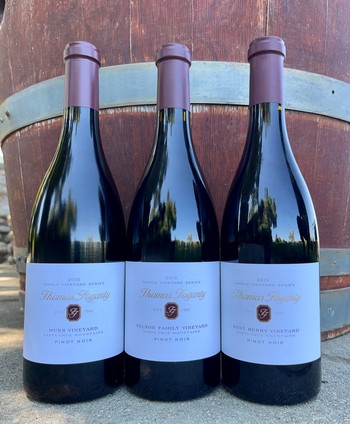 Summit Road Horizontal Pinot Noir Mixed Case
This mixed case includes:
4x 2015 Kent Berry Vineyard Pinot Noir
4x 2015 Muns Vineyard Pinot Noir
4x 2015 Nelson Family Vineyard Pinot Noir
Muns Vineyard: Brushes the sky on the Loma Prieta ridge top above Monterey Bay at 2600 feet. This is the highest Pinot Noir vineyard in the Santa Cruz Mountains, a prime growing region for this luscious winegrape. The cool coastal breeze that blows off the fog and sunlight are perfect for growing premium Pinot Noir. Moderate days and cool nights, along with diligent personal attention in the 13-acre owner-operated vineyard, produces fruit with rich and complex flavors. It includes blended Dijon clones 114, 115, 667 and 777 to provide a complex and well-balanced wine.
Nelson Family Vineyard: In 1967, Gerald Nelson acquired 162 acres of land in the Santa Cruz Mountains and soon after planted the land with Christmas trees. For 30 years, the property was known as Nelson's Christmas Tree Farm, developing a reputation for the quality of the slow-growing Silvertip Firs. In 1999, the Nelson family exchanged Christmas trees for grapevines and planted 9 acres of Pinot Noir (clones 828, 115, 667 and Pommard) and Syrah (Chardonnay was planted later). Philip Nelson grew up in a farming family that raised Christmas trees. The name of the winery is taken from a variety of evergreen firs, ones with a silver-tipped pine needle. He is the third generation to live on this property and although he manages the vineyards, his day job is in the biotech industry.
Kent Berry's Vineyard: Lies at over 1500 ft. of elevation on Summit Rd., in the heart of the Santa Cruz Mountains AVA. Here a massale selection of own-rooted Pinot Noir (quite rare in North America) produces nervy wines with bright red fruit, taut acidity and fine tannin. Wines from this vineyard have shown the ability to age tremendously well. This early ripening site planted on classic SCM sandstone and shale has been a part of our Pinot Noir program since 2010.