Library Vertical & Horizontal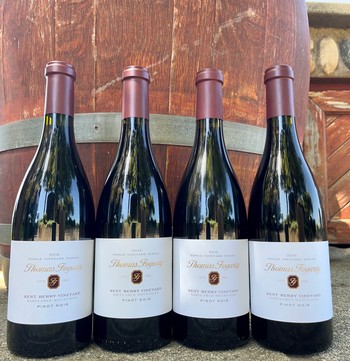 Vertical Kent Berry Pinot Noir 6 Pack
This Six Pack includes:
1x 2013 Kent Berry Pinot Noir
1x 2014 Kent Berry Pinot Noir
2x 2015 Kent Berry Pinot Noir
2x 2016 Kent Berry Pinot Noir
VINEYARD: Kent Berry's vineyard lies at over 1500 ft. of elevation on Summit Rd., in the heart of the Santa Cruz Mountains AVA. Here a massale selection of own-rooted Pinot Noir (quite rare in North America) produces nervy wines with bright red fruit, taut acidity and fine tannin. Wines from this vineyard have shown the ability to age tremendously well. This early ripening site planted on classic SCM sandstone and shale has been a part of our Pinot Noir program since 2010.
TASTING NOTES: Kent Berry Vineyard Pinot Noir is taut and nervy with great energy and precision. This shows the more linear side of Pinot Noir and can age with the best of them. Red fruit, tea and five-spice flavors robe the mineral and steel character of the wine. Sometimes more bones than flesh in its youth we suggest a good decant for consumption in its youth; with 5-7 years of bottle age this wine really blooms.