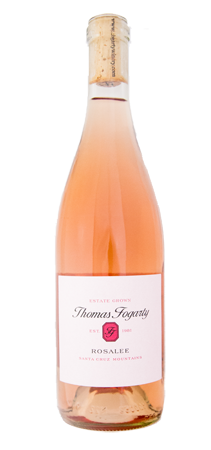 Technical Data
Appellation
Santa Cruz Mountains
2020 Rosalee Rosé of Pinot Noir
Pale in color, the 2020 Rosalee is supremely aromatic and bursting with juicy red and pink fruit. The whole cluster pressing has yielded more delicacy. The finish is vibrant and energetic, the bright acidity driving the core of pure mountain fruit.
Vineyard
The Will's Cabin Estate Vineyard lies some 20 miles south of the winery at elevations reaching over 2300 ft. The north-west facing ridge is heavily fractured Vacqueros sandstone with steep slopes and awesome exposure. A mere 14 miles separates the vineyard and ocean, though it often basks in morning sun as it sits above the morning fog. This is an earlier ripening vineyard that produces wines that are seriously structured with a wild, mountain character that continues to impress us.
Production Notes
The 2020 Rosalee again hails from the Will's Cabin Vineyard at Gist Ranch. This hillside site of fractured sandstone is north facing and perched at over 2300 ft. of elevation. This vintage went direct to press to minimize skin contact; the nearby fires necessitating a change from past vintages. Natural fermentation took place in 500L puncheons. After three months on lees, the wine was transferred to stainless steel to preserve freshness and purity.