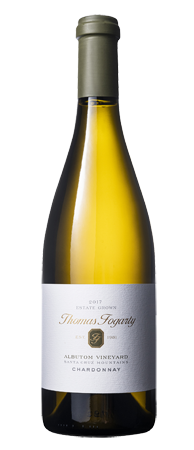 Technical Data
Appellation
Santa Cruz Mountains
2017 Albutom Vineyard Chardonnay
Albutom is a rich, concentrated Chardonnay that boasts ripe orchard fruits, honeyed minerality, and white tea. There are only two-barrels produced of this stunning Chardonnay.
Vineyard
The Albutom Vineyard is our smallest block of Chardonnay and is a distinct expression of the fractured shale upon which it was grown. It seems to epitomize all that we love about the Chardonnay we grow in the mountains. Minerals, rocks, subtle fruit, bright acidity, etc.. This vineyard always brings these various components together in a finally knit Chardonnay of great elegance and subtle power. Very thin, rocky soils and a cool eastern exposure lead to precise wines with great potential for age.
Production Notes
Record setting rains replenished our thirsty soils and gave our old vines a much-needed reprieve from four drought stressed seasons. The 2017 vintage was another year of record setting heat, continuing our string of record setting temperatures. Luckily, Spring was mild and allowed us to set the best crop we have seen since 2012. A torrid heat spike over the Labor Day started the growing season with a bang and had us off and running at sprinter's pace. The weather following was mild and allowed for the latest harvest we have seen in some time. It will go down as a vintage with good yields and potentially great quality.