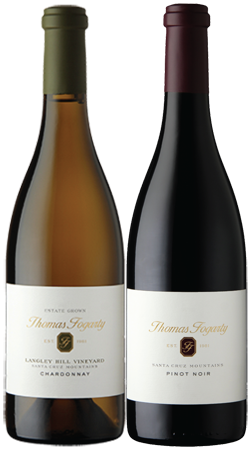 Rotary Los Altos Virtual Tasting Set

The set includes:
2015 Nelson Family Vineyard Pinot Noir
We source this fruit from Nelson Family. Gerald Nelson purchased land in 1969 and established Nelson's Christmas Tree Farm, well known for slow growth silvertip firs. In 1999 the Nelson Family planted 9 acres to Pinot Noir and Syrah and later added Chardonnay. We sourced fruit from Philip Nelson and made only 75 cases of the 2015 vintage. This already low-yielding vineyard was further impacted by the weather conditions of 2015 (which we will discuss) and produced the smallest clusters that resulted in concentrated and complex grapes. We love the aromatics and flavor profile of this wine and Tom Fogarty Jr. looks forward to discussing it and of course tasting it with you.
2016 Langley Hill Vineyard Chardonnay
Langley Hill Vineyard was aptly named after Langley Hill on the other side of Skyline Blvd, directly across from our winery. This 6-acre vineyard on our property is arguably one of the most celebrated Chardonnay vineyards on our property. Planted in 1979, the vines show maturity and produce fruit with flavors and aromatics that simply wouldn't be possible without such age. Tom Fogarty Jr. will discuss the importance of vine age and reminisce his own experience helping plant the vineyards in his pre-teen years. If you have never had a Chardonnay from such old vines you are in for a treat! We are gentle on oak usage (only using French barrels) and allow the vineyard fruit to be on display here. You will be delighted to taste this crisp and vibrant Chardonnay.