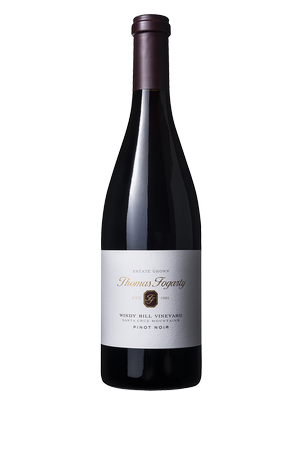 2019 Windy Hill Vineyard Pinot Noir
Vineyard
The Windy Hill Vineyard, re-planted in 2012, is perched on the very top of the Fogarty Estate at just under 2000 ft. These 2.5 acres are buffeted by wind, drenched in fog, and grown in desperately shallow soil; Windy Hill is a tough place to be a grapevine. Lucky for us this leads to fantastic fruit. The wines are ethereal with red fruits, spice, and distinct mineral notes. This is our tightest-spaced Estate Vineyard and is planted to old California Heritage Selections of Pinot Noir.
Production Notes
The 2019 vintage will go down as a classic year in the Santa Cruz Mountains. Some unsettled weather in the spring resulted in poor flowering, lower yields in some blocks. The summer was warm, but not oppressively so- the lack of extreme heat events was a welcome change. Harvest began in mid September, finishing up in mid to late October - relatively late compared to the recent string of early harvests. The wines are concentrated with a fine balance of structure and fruit intensity. Site expression seems amplified; low yields and moderate temperatures often lead to some of our most singular and terroir driven wines. The wines drink surprisingly well in their youth and have all the components for a long life ahead. The only downside to the year are yields; the wines will be sought after and rare.
Technical Data
Appellation
Santa Cruz Mountains
Other Notes
"This bottling by winemaker Nathan Kandler, from a vineyard 2,000-feet up in the mountains, demonstrates tremendous concentration at stunningly low alcohol. Aromas of mulberry, mace and sandalwood lead into a rich and woody palate that's reminiscent of a summer-warmed pine forest, where wild elderberry shrubs and plum orchards bake in the sunshine."
Food Pairing Notes
Matt Kettman, Wine Enthusiast. 96 points.