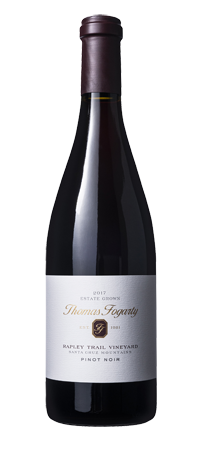 2017 Rapley Trail Vineyard Pinot Noir
Rapley Trail Vineyard has a unique aromatic incense of North-African spice and forest floor. This vintage is energetic with red fruits and firm tannins.
Vineyard
The Rapley Trail Vineyard (avg. elev. 1650 ft.) was planted in 1981, consisting of six contiguous acres of Pinot Noir vines on our Estate's rugged southeastern slopes. It has long been the backbone of our past "Estate Reserve" Pinot Noir, but beginning in 2002 we have begun to bottle portions of the vineyard separately. This "deconstruction" displays the unique aspects and interactions of soil and climate that accounts for grapes whose flavor is a direct product of where they are grown; this is terroir. The Rapley Trail Vineyard bottling is comprised of the various lots harvested from the vineyard, which in some years can be picked in as many as 7 passes.
Production Notes
Record setting rains replenished our thirsty soils and gave our old vines a much needed reprieve from four drought stressed seasons. The 2017 vintage was another year of record setting heat, continuing our string of record setting temperatures. Luckily, Spring was mild and allowed us to set the best crop we have seen since 2012. A torrid heat spike over the labor day started the growing season with a bang and had us off and running at sprinter's pace. The weather following was mild and allowed for the latest harvest we have seen in some time. It will go down as a vintage with good yields and potentially great quality.
Technical Data
Appellation
Santa Cruz Mountains
Other Notes
Black-raspberry-jam, rose-petal and lilac aromas meet with a wet rock minerality on the nose of this single- vineyard expression. The palate is loaded with those rocky flavors of gravel, granite and sandstone, settling into rich boysenberry and spice tones of star anise and clove.
Food Pairing Notes
Matt Kettman, Wine Enthusiast. 94 points.