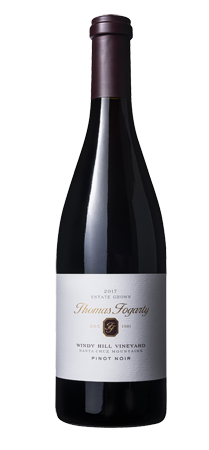 2017 Windy Hill Vineyard Pinot Noir
Windy Hill always produces some of our most aromatic Pinot Noir. The soaring nose is confirmed by the expressive palate- juicy red fruits, spice and a background of forest-floor. This wine is drinking quite well in its youth, but should evolve quite nicely over the next 5-7 years at minimum.
Vineyard
The Windy Hill Vineyard, re-planted in 2012, is perched on the very top of the Fogarty Estate at just under 2000 ft. These 2.5 acres, are buffeted by wind, drenched in fog and grown in desperately shallow soil; Windy Hill is a tough place to be a grapevine. Lucky for us this leads to fantastic fruit. The wines are ethereal with red fruits, spice and distinct mineral notes. This is our tightest-spaced Estate Vineyard and is planted to old California Heritage Selections of Pinot Noir.
Production Notes
Record setting rains replenished our thirsty soils and gave our old vines a much needed reprieve from four drought stressed seasons. The 2017 vintage was another year of record setting heat, continuing our string of record setting temperatures. Luckily, Spring was mild and allowed us to set the best crop we have seen since 2012. A torrid heat spike over the labor day started the growing season with a bang and had us off and running at sprinter's pace. The weather following was mild and allowed for the latest harvest we have seen in some time. It will go down as a vintage with good yields and potentially great quality.
Technical Data
Appellation
Santa Cruz Mountains
Other Notes
Smoked cherry, turned earth, mushroom, singed pine and a hint of maple show on the nose of this bottling from a vineyard 2,000 feet high. The palate begins with a tart raspberry and pomegranate flavor, then picks up floral tones of lavender and rose petal, with hints of game and rosemary arising by the finish.
Food Pairing Notes
Matt Kettman, Wine Enthusiast. 94 points.