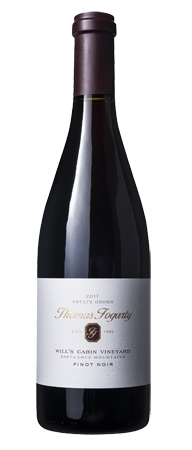 2017 Will's Cabin Vineyard Pinot Noir
From our Gist Ranch Estate, this bottling showcases mountain Pinot Noir with aromatic red fruit and a wild forest spice character.
Vineyard
The Will's Cabin Estate Vineyard lies some 20 miles south of the winery at elevations reaching over 2300 ft. The north-west facing ridge is heavily fractured Vacqueros sandstone with steep slopes and awesome exposure. A mere 14 miles separates the vineyard and ocean, though it often basks in morning sun as it sits above the morning fog. This is an earlier ripening vineyard that produces wines that are seriously structured with a wild, mountain character that continues to impress us.
Production Notes
Record setting rains replenished our thirsty soils and gave our old vines a much needed reprieve from four drought stressed seasons. The 2017 vintage was another year of record setting heat, continuing our string of record setting temperatures. Luckily, Spring was mild and allowed us to set the best crop we have seen since 2012. A torrid heat spike over the labor day started the growing season with a bang and had us off and running at sprinter's pace. The weather following was mild and allowed for the latest harvest we have seen in some time. It will go down as a vintage with good yields and potentially great quality.
Technical Data
Appellation
Santa Cruz Mountains
Other Notes
Leather, dried strawberry and peppercorn lead into a nose loaded with chaparral spice of light thyme and sage on this vineyard designate. It's a bit shy on the palate at first, and then light cranberry and raspberry flavors emerge against the crushed stone and light red-flower flavors.
Food Pairing Notes
Matt Kettman, Wine Enthusiast. 93 points.