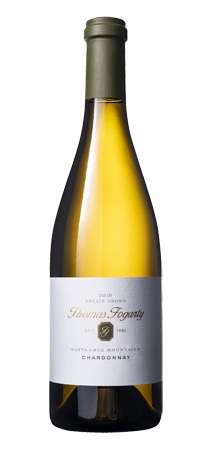 Technical Data
Appellation
Santa Cruz Mountains
2018 Santa Cruz Mountains Chardonnay
Our Santa Cruz Mountains Estate Chardonnay showcases orchard fruits and brioche-scented aromas and flavors. It's rounded, nicely textured, and balanced.
Vineyard
Cold, whole-cluster pressing, no settling, barrel fermentation with native yeast, and spontaneous malolactic fermentations highlight the wonderful purity inherent in our Santa Cruz Mountains Chardonnay. This 'hand off' approach in the cellar allows for maximum site expression.
Production Notes
The 2018 vintage started with the cool, mildly inclement springtime that we are reluctantly becoming accustomed to here at the north end of the Santa Cruz Mountains. Unlike 2015, however, the cool weather didn't severely hamper flowering, and when clusters began to form we found a nearly perfect number of small clusters throughout the Pinot Noir and Chardonnay vineyards at the northern estate and close to a "normal" (whatever that means these days) crop load at the Gist vineyard with the "Bordeaux" grapes. We really prefer a smaller crop, particularly with Pinot Noir, as it ensures intensity and concentration in the berries at harvest. The growing season saw mild temperatures and harvesting began in Gist's "Will's Cabin" vineyard on September 5 and we began picking the northern estate on September 12 with Razorback. It is typical for us to pick Pinot Noir before anything else, but it's unusual to pick the Gist vineyards first. In the bottle, we can expect exceptionally balanced wines with very nice intensity. Noteworthy, perhaps, in the 2018 vintage would be the Chardonnay wines (all of them) for purity and energy that (improbably) raises the bar once again, as our Estate vineyards show their age with edgy, cantankerous intensity. Also, the "Lexington" Cabernet Sauvignon from Gist vineyard continues to impress and evolve as seven years on from the first vintage we see slightly softer tannins and balanced intensity in youth. All the 2018 wines are probably more drinkable in youth than some recent vintages (2015 comes to mind), but still very cellar-worthy with the potential to age for many years. In many ways, 2018 is a "Goldilox" vintage, with enough balance to be enjoyed upon release but with the intensity and structure to lay down for a special treat years down the road.