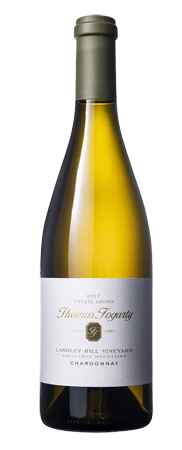 2017 Langley Hill Vineyard Chardonnay
The 2017 vintage opens with citrus blossoms and shows bright stone fruits with layered mineral tones.
Vineyard
Langley Hill is our largest plot of Estate Chardonnay. It occupies a steep hillside, offering numerous exposures and soil depths. This complex arrangement leads to multiple picks often spread over weeks, rather than days. Langley Hill's is often both the first and last of our Chardonnays to be picked. The vineyard's fractured sandstone over Lambert shale yields Chardonnay that is steely and structured with persistent citrus and mineral flavors.
Production Notes
Record setting rains replenished our thirsty soils and gave our old vines a much needed reprieve from four drought stressed seasons. The 2017 vintage was another year of record setting heat, continuing our string of record setting temperatures. Luckily, Spring was mild and allowed us to set the best crop we have seen since 2012. A torrid heat spike over the labor day started the growing season with a bang and had us off and running at sprinter's pace. The weather following was mild and allowed for the latest harvest we have seen in some time. It will go down as a vintage with good yields and potentially great quality.
Technical Data
Appellation
Santa Cruz Mountains
Vineyard Designation
Langley Hill Vineyard
Other Notes
Aromas of butter-braised lemon and grapefruit, light spearmint and a hint of butterscotch candy show on the nose of this bottling. The palate is lively with textural activity, as a lime-pith tension and chalky, ashy tannins lead through grapefruit-flesh flavors into an intense finish.
Food Pairing Notes
Matt Kettman, Wine Enthusiast. 93 points.